We all know trust is a big factor when it comes to spending our hard-earned money – and that when it comes to finance it is even more important. Banks, building societies and lenders all have a tough job convincing customers to disclose private financial information online; as many people prefer to do this face-to-face, or over the phone. But can we change these attitudes?
Research by Gallup suggests customers who are fully engaged (emotionally attached and rationally loyal) with their bank bring 37% more annual revenue to their bank, than those that are actively disengaged (emotionally detached and will readily switch). This could potentially add up to large sums, so building engagement is something that must be nurtured through every part of a customer's journey.
How can we develop customer engagement?
To see where we can improve, we need to understand what customers require from a bank. Do they really want cashback for signing up? Or is it something altogether more holistic?
A study by Ipsos MORI claims that meeting 'friendly and knowledgeable staff' is the most common reason cited for having a good customer experience at a bank. This option was closely followed by having the option to access 'banking when I want it, using it the way I want'.
These things were considered far more important than access to good or innovative products. Essentially, customers just want to speak to people they can trust.
What can we do to improve online banking?
With those popular answers in mind, it is important that financial companies have a reliable multi-channel engagement strategy in place, so that customers have the choice between doing research online and speaking to friendly, knowledgeable staff. By improving certain parts of the online process, we can build engagement and – as a result – trust.
1. Online engagement
Many companies still don't have systems to deal with application abandonment, which is incredibly hard to believe considering the value of a mortgage compared to the cost of a call. With an automatic system in place, financial companies can phone customers that run into trouble online and provide advice.
Web chat and click-to-call buttons can also be installed to offer help when a customer stalls on a field. This way they don't have to worry about calling expensive numbers.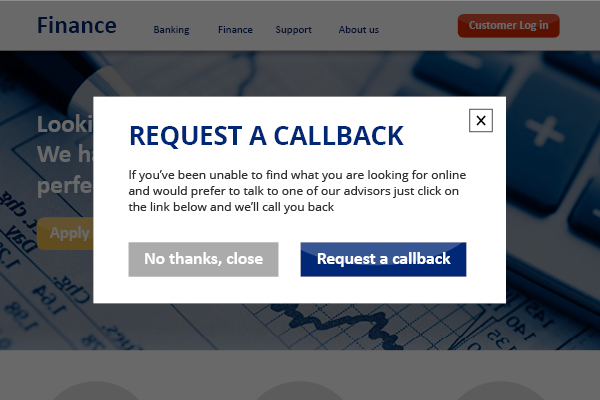 2. Automated marketing
For customers that fail to answer a call, email and text reminders can be sent out to say their application has been saved for later. If there is an option to phone an advisor, or arrange a meeting at a local branch within the message, you are increasing the number of ways they can complete an application.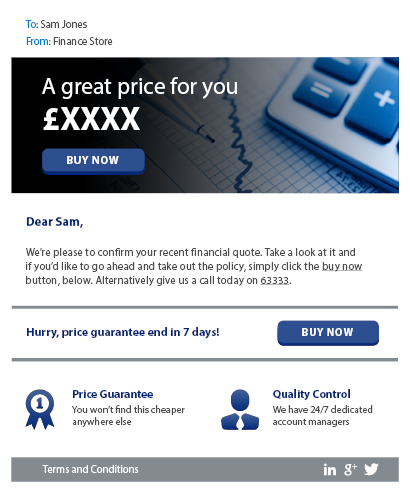 3. Increasing trust
We often find that our financial clients have been slow to engage with customers in the same way as retailers or utility companies. In reality they should be engaging more, if that's what their customers value. It is quite worrying that in a follow up question to the Ipsos MORI study, only 35% of people said they believe their online banking provides effective customer service – especially when such a high proportion of customers now rely on it.
Banking is entering a new era and it seems that when financial companies can adapt their web services to meet the standards of their excellent branch services, they will begin to see a change in the way people think.
Maybe one day there won't be the same level of scepticism in online finance as there is today? But as businessman Stephen Covey said:
'Trust is the glue of life. It's the most essential ingredient in effective communication. It's the foundational principle that holds all relationships.'
Contact us today to find out how Optilead can improve your online engagement process.
Other Customer Engagement articles worth reading: