A recent survey of travel companies, conducted by conversion specialists Optilead, revealed that travel agents are missing out on millions by failing to follow up online customers that abandon orders during the booking process.
Optilead completed online bookings for holidays valued in excess of £2,500 that were abandoned before the payment process was completed. Only 17% of companies made any effort to follow up the booking, with the quickest of those responding in 54 minutes and the slowest taking over 2 days.
"It's unbelievable that companies are ignoring what are obviously 'hot leads'." says Customer Engagement Specialist, Richard Gomersall.
"Travel agents don't let visitors walk into their High Street shop without an agent acknowledging them, so why do they allow it to happen online?"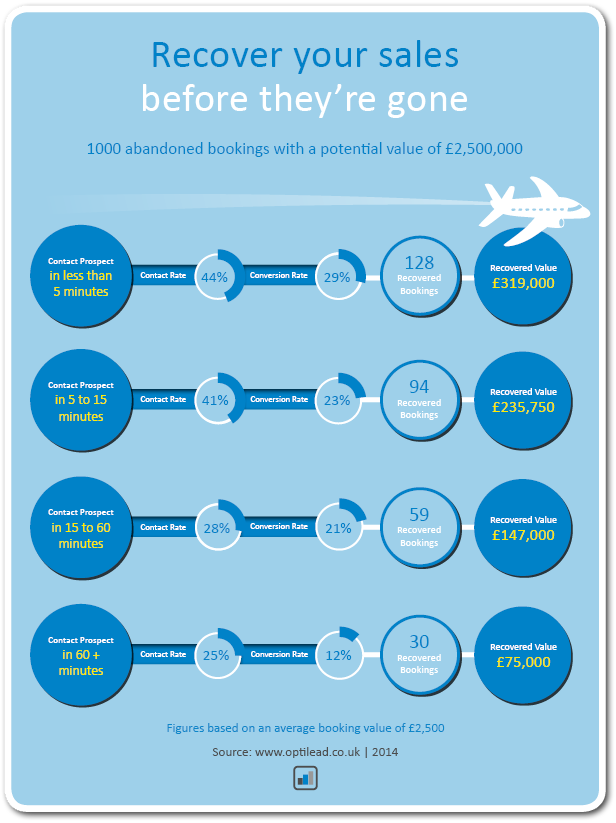 Whilst the 'abandoned cart' email is a popular way to target these prospects, companies seem to be ignoring the power of the phone. People are much more likely to buy off the back of a conversation.
Richard added: "We identify over £15 million pounds worth of abandoned web bookings a month for one of our travel clients and they successfully recover over £1m through a targeted outbound campaign. Scale that up across the whole industry and the opportunity is massive!"
A recent survey of online travel agents (source: Salecycle) showed an average click rate of 15.6% from abandoned cart emails, with a conversion rate of 22.6%. Comparing this to the figures for a telephone campaign (see infographic), email would only have delivered 36 sales, with a value of £90,000 – less than half of what was achieved from a timely phone call.
The most effective strategy is to use both channels. Outbound calls to target higher value leads, using email as a fallback; and emailing lower value leads that don't warrant a call.
To find out more about how Optilead can increase your business revenue, please contact us.
Other Customer Engagement articles worth reading: