Europeans know that Americans like to do everything bigger. The cars, buildings, the national parks; they're all a bit like Europe's… but BIGGER.
For those of us that work in ecommerce, it's the same story here too. Despite having a population 423 million fewer than those of us in Europe, the US ecommerce market made $89 billion more than Europe in 2014, selling over $300 billion worth of goods (source: Retail Me Not). To put this in global terms, American citizens alone accounted for nearly a fifth of ecommerce sales worldwide for that year!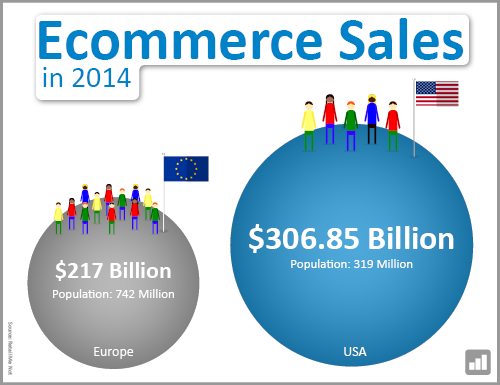 Many online retailers in the US may begin to think: "Great! People are spending loads online!" But these impressive topline figures disguise an even more interesting figure – that 76% of all carts are actually abandoned.
When considering the total size of the retail market – on and offline – there is still a big gap for ecommerce stores to close. Overall, retail in the states is worth over $4.5 trillion and the percentage of citizens choosing to go online is still lower than countries like the UK and Sweden.
So how can companies improve their online sales?
Well, the best question to ask ourselves is: 'what do customers want?' If we can answer this question, we may be able to please more customers when they attempt to buy online.
Customers often say easy refunds, friendly customer service and good value are key factors whenever they spend money. Online stores can often compete on value, but fall behind on the other aspects, such as customer support and returns. These things require a more personal response and can really improve ecommerce websites.
See also: 48 leading UK retail websites tested for customer engagement
Talk to someone can be a decisive factor in the buying process for many customers. They may want to discuss delivery options or stock availability, as they would in store.
Companies that address this issue in the online process often use several different strategies. Live chat, click-to-call and outbound calling are all popular tools used to increase customer satisfaction – and inevitably sales – for major websites around the world.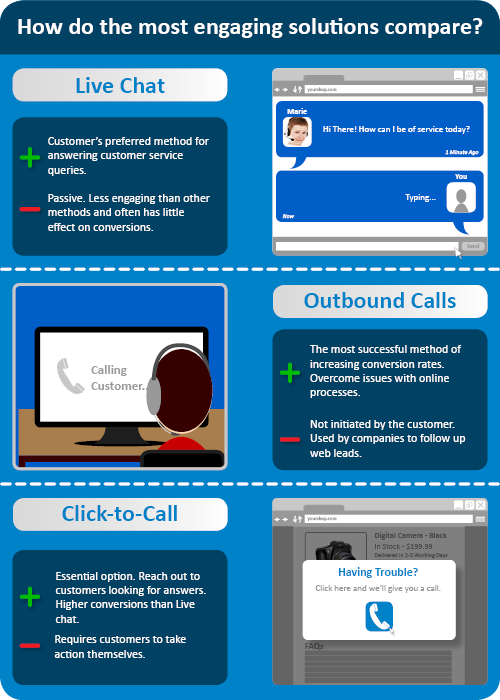 Clearly there are no issues with installing all of these features on your website to meet the needs of your wide and varied audience. The important part is starting a dialogue with your customers, and you should do that however they feel comfortable.
What is equally important is how to address the main issue – your cart abandonment. The current ecommerce market is thriving, but finding a competent way of converting abandoned carts is currently an untapped gold mine for sellers. A multichannel solution can increase sales by anything up to 47%. For most online retailers, if this percentage of abandoners suddenly started converting on their site, it would really make a difference. It's not an outrageous idea, it's actually very achievable.
Forming an engagement strategy
Those who start to form a strategy will soon see the value of carts they were previously missing out on. Many companies have already developed their multi-channel engagement strategy and now realize how integral it is in the online journey.
People leave ecommerce sites all the time… the most successful ones find out why.
Other Customer Engagement articles worth reading: