Each year marketers are faced with incredibly tough decisions over where to spend their budget. There are so many options available; PPC, Cart Recovery, Web Callback. They are all designed to drive profits and conversions, but which approach should you choose? And most importantly, which one drives the biggest ROI?
The first thing to establish is; what do you want to achieve? By assessing the current situation and being realistic about how much you have to spend, it will be easier to work out which channel will be the most appropriate to invest in.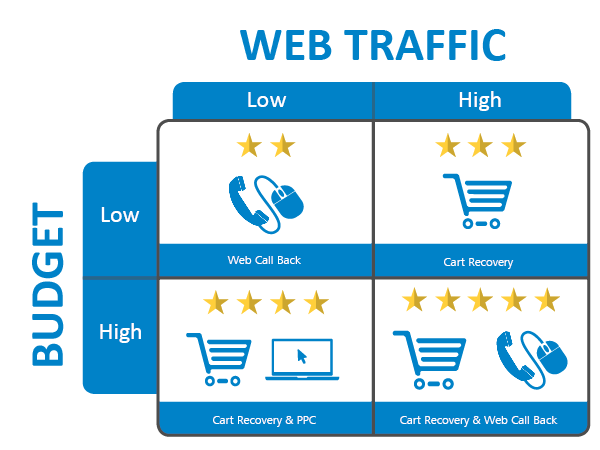 Current website situation: Low web traffic, low budget
For companies that don't get a lot of traffic and perhaps don't have a lot to spend – such as a small businesses – there is a lot that can be done to drive web leads through a blog, or through social channels. These are very cost-effective ways of getting people onto a website. When they do arrive however, the most important thing to do is to get them to convert.
Best investment: Web Callback
This is a quick fix for any website, and a great way of encouraging visitors to your website to show an interest. They may not take the initiative to call, but they may be happy to fill in some contact details for a member of your company to follow up.
When a web form is completed, it is essential that a call is dialled out immediately. With an automated process you can ensure each request is followed up instantly through a fully accountable system, while your prospect is in buying mode.
Adding web call back to your site is easy to set up and very low cost to run. Existing members of staff can happily cope with the extra calls that come through, whether they work in a contact centre, or even in a high-street branch.
Current website situation: High web traffic, low budget
Let's say the website is a bit more well-established than the previous example. Perhaps people have started following your blogging tips, or your social campaigns are directing people to your website but they're not completing the payment process. There are a few basic layout changes that could make incremental changes to the number of conversions you achieve, but in reality you still need to spend some money.
Best investment: Cart Recovery
For a website that is clearly performing well in terms of traffic, but possibly not so well in terms of conversion, there are a number of things that a smart cart recovery provider can help you with. The first is being able to track people that are visiting your website. The second is being able to capture their contact details so you can plan a remarketing strategy.
With a multi-channel cart recovery strategy, websites that receive a lot of traffic can implement a system that engages with people and converts them into paying customers.
Current website situation: Low web traffic, high budget
Having a high budget means you would probably start to look beyond your organic reach on search engines. Pay-per-click (PPC) campaigns help your company appear at the top of search results pages for chosen searches and keywords. It comes at a cost however. Companies can end up spending a lot of money each month on driving traffic to their website without actually seeing a difference in sales conversions.
Best investment: PPC and Cart Recovery
Using a Cart Recovery solution in combination with a PPC campaign will ensure you drive leads and convert them. By adding a phone campaign to your email remarketing, you could see conversion rates rise from 2%, to anything up to 47%, which would cover the cost of an expensive PPC campaign many times over.
Current website situation: High web traffic, high budget
This is a scenario that a lot of big companies face. They are getting a lot of traffic to their website as a result of successful ad campaigns, referrals, social media and many other channels, but they now need to increase sales.
Best investment: Cart Recovery and Web Callback
A far better strategy for popular websites would be to improve the experience people have when they are online.
Most major companies invest heavily in Cart Recovery and remarketing campaigns because the returns on investment are so big. Adding a web call back is also popular, as it often prompts customers who are unsure into making an enquiry. Both are also very cost-effective.
A PPC campaign may be appropriate for certain terms and keywords but the big websites find that their reputation means they don't have to pay to appear on the first page. Instead, changes to web copy and terminology mean they can beat competitors to the top of search results without paying huge costs.
Anyone in charge of a budget will always be asked to justify their expenses. This can result in a series of awkward meetings if the budget has been spent on advertising, or other channels that are hard to prove a return on investment.
Many companies see PPC as the magic solution to increasing sales. It undoubtedly brings people to your site, but improving sales relies far more heavily on nurturing leads throughout the customer lifecycle – from click to conversion.
For more information or advice on starting an engaging campaign on your website, please feel free to contact us.
Other Customer Engagement articles worth reading: