It should be a bright year for those working in banks, building societies and loan companies. Financial companies will increase recruitment as a result of the demand for better customer services and better online banking, according to this week's Employment Outlook Survey conducted by Manpower Group.
This news comes in the same week a major bank announced large scale redundancies. But despite this, prospects for job seekers are 16% higher in the sector than this time one year ago.
Manpower attributes this forecast to aims within financial services to build more engaging, multi-channel services for their customers both online and through mobile apps.
Increasingly popular
Over half of adults in the UK now use online banking, up from a quarter in 2011. So it's no surprise that banks now want to improve the level of service they provide when customers do decide to log on.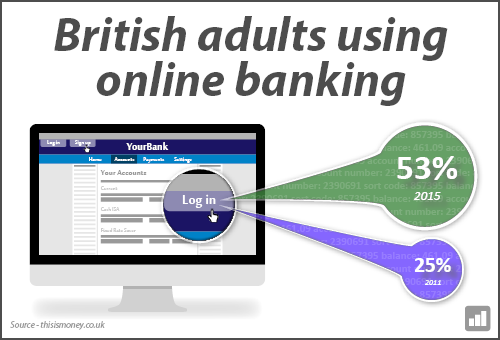 Providing engaging support is proving to be an increasingly valuable aspect of websites across sectors. This support appears in various forms, whether it's with a call back feature, live chat, or over the phone.
A survey conducted by Payments Council found that those who don't currently use online banking often cite security and remembering passwords as the main reasons for not embracing it; but that having someone to talk to for advice would help. Many customers that are not online yet also said that some sort of training would also go a long way to improve their confidence with online systems, an aspect that would also require financial institutions to hire extra staff.
"Financial Services customers have become increasingly sophisticated over the past few years," said Karen De-Merist, Manpower Group solutions operations director.
"They're demanding more from their providers – in terms of mobile banking and online payment facilities."
A common misconception with online services is that branches will inevitably close. But much of the support needed by online customers can now be handled through the branch. If a customer needs help on an online application, for example, they could complete a call back form on the website to talk through the various stages with an experienced advisor.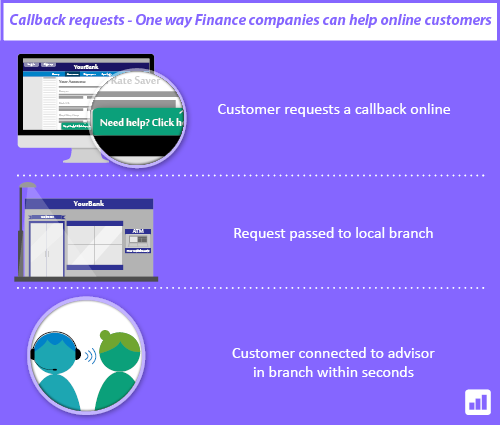 Improving the personal approach
"Financial organisations are now looking at alternative solutions to respond quickly and effectively via various routes of technology," said Graham Mace, Director at Optilead.
"A focus on customer satisfaction is paramount within the Finance sector, to ensure that the journey on the web is at exactly the same level of service as that of the network branches," he added.
"Many companies I work with are now focussing on directing online help to employees in branch, so that customers receive quality service regardless of which channel they choose to use. It's a growing trend for many ecommerce operations who are trying to integrate the online and offline aspects of their company."
So is it a case or hiring new staff? Or using technology to make use of resources we currently have? It does seem unnecessary to offer the same service through several independently operating channels, when staff in branch could be talking to customers online.
De-Merist believes finding someone the customer can relate to is a key part of selling financial products.
She concluded: "[Financial companies] are also recognising the importance of matching their workforce profiles more closely to customer profiles, in both face-to-face and over-the-phone roles. This is a much more strategic approach in terms of people practices, in comparison to the scattergun approach seen previously."
Providing reassurance
For many consumers managing money online still seems a very daunting experience. A negative news story is always going to attract more media coverage than a positive one unfortunately. So the main objective for financial institutions should be to instil a level of reassurance and trust in their online services, much like customers receive when they meet an advisor in their local branch.
For more information on customer engagement in the financial sector, click here.
Other Customer Engagement articles worth reading: