Booking a holiday online can be a bit like trying to buy a coffee nowadays. Even if you know what you want, there are so many options and so many shops, that you can just end up throwing your arms in the air and making the most of your coffee – or holiday – at home.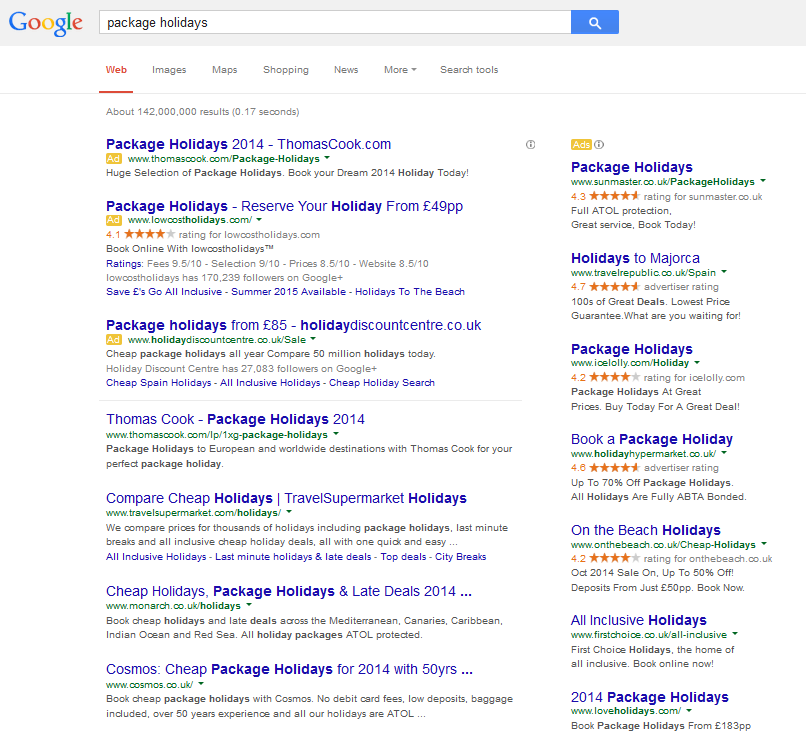 A quick search for package holidays throws up some confusing results
More than 8 out of 10 online customers now abandon online travel bookings, citing lengthy processes and price comparison as key reasons for looking elsewhere.
Retargeting these people works really well for Travel websites, as it is these lengthy processes and price concerns that can be easily turned around, especially over the phone. It is easier to talk through travel requirements and security questions over the phone; and a conversation gives you the opportunity to price-match if the customer happens to find the same holiday cheaper elsewhere.

Achieve better conversion rates
With conversion rates averaging around 21.3% from telephone conversations, compared to only 2% from emails; it is important that travel companies are calling the most valuable leads, before emailing others.
The average price of a holiday booking identified by Optilead is £1504.90. Bookings up to £10k are abandoned too, but without remarketing, there would be no attempt to follow them up at all.
Budgets for booking abandonment recovery are increasing year-on-year as travel companies realise how lucrative contacting online visitors can be. Combining systems with some well-planned prioritisation can help businesses focus on more valuable bookings, or those more likely to convert.
An example:
Let's say a customer visits a travel website during their lunch hour to look at booking a short break to Rome. A call out to the customer can be added to the queue, but with a lower priority than somebody booking an all-inclusive package to the Maldives. If they look at booking along with the rest of the family later, this one can be set to replace the first one – and even set to be called more urgently. For the first enquiry, an email can be fired out later to serve as a reminder.
This process of prioritising abandoned bookings can create enormous gains for a company and multiply their return on investment many times over. All sorts of parameters can be set, from the stage of the abandonment; to the time of day or night they left the site.
Flexible customer support
Other factors can be considered too. If somebody has selected to take their own skis on a trip to the Alps, it may be helpful to call them to make arrangements. Equally, if a visitor fills in a field to say they have a disability, you can automate a call to find out the nature of their disability and let them know how you can assist them.
Prioritisation is an incredibly powerful tool for travel websites, as well as many other online businesses. Many are already aware of the power of remarketing, and may even experiment with different types, but it is rarely used anywhere near its full potential.
To find out more about how Optilead can increase your business revenue, please contact us.
Other Customer Engagement articles worth reading: