Folding up a thousand letters and posting them to potential customers may seem like a thing of the past. Much the same as knocking on doors to talk to people has become a dying art. Things have changed in marketing and it's now a lot easier to get your products or services in front of people than it ever has been.
So how are ecommerce companies choosing to engage with customers, especially with all the tools now at our disposal? And more importantly, is it working?
There are all sorts of ways you can engage with your target audience and finding the right channels to reach them is key. This article will look at some of the options ecommerce stores now have available, and which brands are currently using them best.
Basic engagement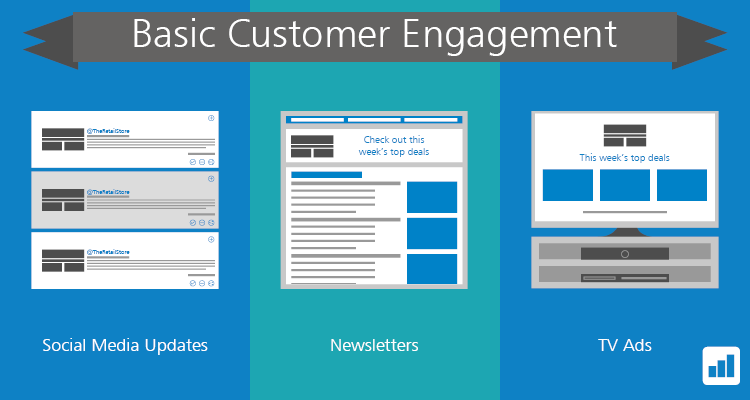 When a customer goes online to buy, they have a mind-bending choice of websites to choose from. So to stand out, there are some channels decision makers just cannot ignore. These are some of the basic levels of engagement that all brands could – and possibly should – be using…
Social media updates
A world connected to social media means what we like and do is highly influential. We learn more about some people through updates, tweets and videos than we do by talking to them. So it is important brands manage their reputations on social sites to make sure they are at the forefront of people's minds.
A fine social media example… Promoting old age to the social media generation may seem like an impossible challenge, but it's one that Age UK have mastered wonderfully. Their Facebook page regularly post photos and stories of people flourishing in their old age, and in turn promoting their cause.
Newsletters
Before a customer drops off a website, most smart sites will have made sure they capture an email address to engage with customers at a later date. For more experienced marketers, this will be reminiscent of direct mail marketing but without the dry tongue.
An engaging example of newsletters… For internet provider Plusnet, email marketing provides an easy way of engaging with customers that may have dropped of their website. It serves as a crucial tool for re-engaging with visitors in a space dominated by price-savvy consumers looking to find the best telecoms deal.
TV/video advertising
Although a large slice of advertising space has now been shared with online competitors, like YouTube, TV still has its place for some companies.
A great example of video advertising… Saga has been running holiday advertisements on TV for some years now. But for companies targeting millenials, such as the Lynx/Axe brand, ads on television streaming sites and YouTube are far more likely to get through to the right people.
More personal engagement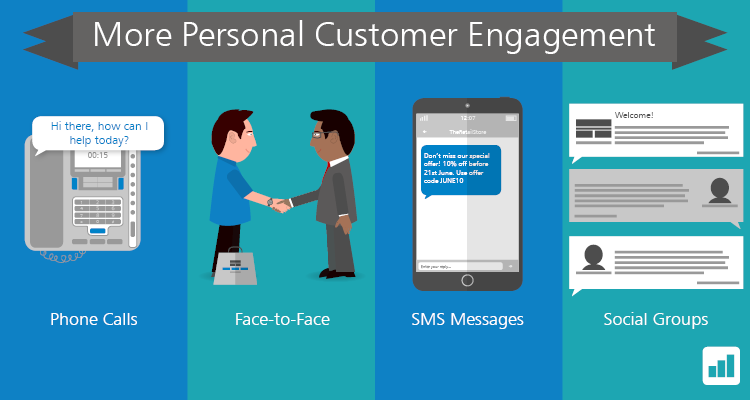 Phone calls
For a customer, having someone on the end of a phone line is still the most reassuring channel to connect with a company. Even though there have been great improvements to online services, sometimes it's just more helpful to get advice by speaking to someone.
A smart phone example… Club Med has recently started to route online queries into Club Med contact centres as phone calls. This way, people get a higher level of service than they do online, as well as help and advice about holidays if they get stuck.
Find out more here.
Face-to-face
Which brings us on to the Rolls Royce of customer engagement. It may be unrealistic to deal with every single customer query face-to-face, that's for sure. But staff are a massive factor in a customer's experience with a company, which is why many firms invest so heavily in their people. They are the face of any business, so it's important customers meet a helpful, friendly face – not one fed up with their job.
A rewarding face-to-face example… Cosmetics retailer, Lush, regularly ends up at the top of customer service surveys. Having enthusiastic and knowledgeable staff makes shopping a far more rewarding experience. It is no great surprise that those companies with poor results showed a correlation with the way they fielded customer complaints.
Click here to see the latest results.
SMS messages
When a customer visits your store, either in person or online, it's always helpful to get some details, such as a phone number, so can reach them when they've left. Text messaging is a dream for marketers, as 91% of adults keep their handset within arm's reach at all times, so anything you send goes directly to the right person.
A quick SMS example… Enterprise Rent-A-Car use an SMS system to confirm bookings and remind customers when their car is due back. Although they prefer a more personal approach with customers, SMS provides a good fall back for when the customer isn't available.
Start a social group
A great way of engaging people, using their own gadgets and gizmos, is through social media. Find a common interest that all your customers have in common and design the content with that focus in mind. This way you are keeping them interested in your business by offering more than just your services.
A cool example of a social group… IBM has created a Facebook page called Smarter Workforce that aims to attract recruitment professionals and highlight the changes in their industry. This is a great example of a company adapting their solutions for a particular industry, and supporting it with a page that provides resources and information for the people that use it.
There's no doubt marketing has changed and evolved at an incredible rate. Modern marketing has veered away from printing and distributing. Instead it resembles an intellectual arms race, where companies are competing for hits and clicks using whatever method possible.
But let's not forget what customers want. People still value engagement and human interaction, despite all the technology we have available. For marketers, this aspect of a sale can often be lost in the race to get ahead of competitors online.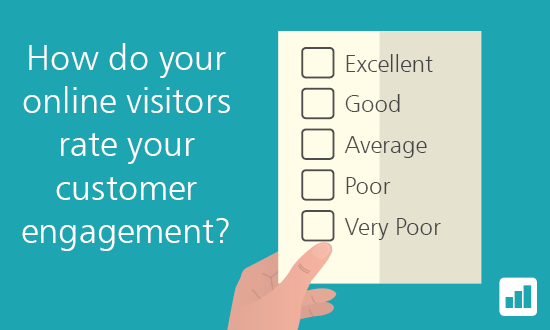 To find out how your business can increase revenue by engaging with online visitors please contact us.
Other Customer Engagement articles worth reading: