On 13 June 2014, the UK government changed the law on telephone call charges for existing customers contacting company helplines.
It is now illegal for companies to charge consumers more than the basic rate to discuss services or products that have already been sold.
Optilead is helping companies to stay within the law
The following amendments were made to The Consumer Contracts (Information, Cancellation and Additional Charges) Regulations 2013.
Help-line charges over basic rate
41.—(1) Where a trader operates a telephone line for the purpose of consumers contacting the trader by telephone in relation to contracts entered into with the trader, a consumer contacting the trader must not be bound to pay more than the basic rate.
(2) If in those circumstances a consumer who contacts a trader in relation to a contract is bound to pay more than the basic rate, the contract is to be treated as providing for the trader to pay to the consumer any amount by which the charge paid by the consumer for the call is more than the basic rate.
In summary, these changes mean that all companies must provide consumers with basic rate telephone numbers that they can call to resolve any issues.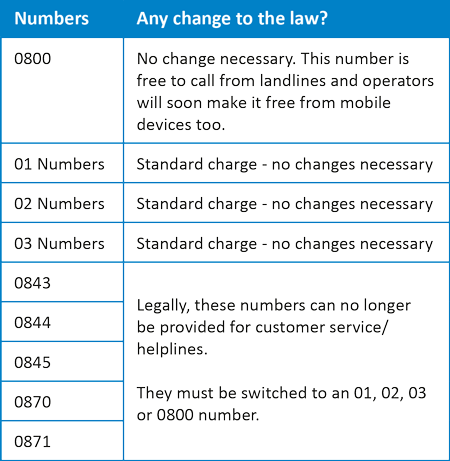 We are currently helping all of our new and existing clients to stay on the right side of the law by following the guidelines outlined above.
Companies affected…
These changes have had a big impact on airlines, travel operators and major high street and online retailers. But SMEs must also ensure that their helplines meet the requirements too.
Financial services will consider whether they adopt these changes in the near future; which will affect banks, insurance and utility companies.
Unaffected…
Other telephone services such as sales and advanced support services are not required to change from higher rate numbers – providing the call charges are clearly advertised.
Calls where charges are recovered through the phone line, such as horoscopes and television voting, are also unaffected.
As are industry regulated services; such as gambling, timeshares and financial services, as the law stands.
For advice or support regarding the new laws, feel free to contact us.
Other Customer Engagement articles worth reading: